I am told that various Christians went on record gloating over the passing of the great astrophysicist Stephen Hawking and contemplating his arrival in the magma pit of Hell. Hawking's damning sin? Well, of course, he was an atheist, and what other destination would be fitting? Any mature person will deplore what John Beversluis called a "chop-licking attitude" at the prospect of one's ideological opponents frying in the Inferno. These "schadenfreudians" are like cruel children, and it would be equally silly to take them as typical Christians. But their frank sadism does raise an important question about Christianity per se. Are these gloating believers hypocrites, acting in contradiction to the faith they claim to represent? Or are they consistent with that faith?
The problem is not a contradiction between such spiteful hate on the one hand and Christian belief on the other, much as we might want it to be. No, the problem is a contradiction between aspects of the Christian faith itself. It bids us go in two different directions. Some Christians proceed in one direction, the rest in the other. Even if we are non-Christians, we wish we could say that Christian faith includes a noble moral stance, fostering forgiveness and compassion. And indeed it does. But there is a fatal Tse-tse fly in the ointment. And of course that is the doctrine of an eternal Hell for those who do not accept the Christian belief.
Of course Christians deny that it is a simple matter of one's choice of religion. They realize how unfair and arbitrary that sounds. How cruel and arbitrary that would be. So they try to ameliorate that offense by telling us (and themselves) that there is much more to it! And what is that? Wouldn't be good works, would it? Roman Catholics seem to add works to faith, as if we must make ourselves worthy of the grace of God, whatever that might mean. Eastern Orthodox Christians believe in synergism: we must work together with God's grace for it to save us. But traditional Protestants want to stick with Martin Luther's dicta of Sola fidei, Sold gratia (Faith alone/grace alone. Two "alones"? Well, yes, they're both sides of the same coin: nothing but God's grace can save us, but we must wittingly receive it or it will never really be ours. God throws out a lifeline, but the drowning man must take hold of it. I don't know if that gets them out of the jam. If it were all simply a matter of grace, we would have Christian Universalism: everybody is saved whether they know it or not! Jesus did not merely try to save humanity, and with partial results. No, he did save the human race. He didn't just provide the cure, like a chemist; he actually administered it, like a doctor.
Another route of attempted escape is the claim that belief is a necessary but not a sufficient condition; you must have (i.e., you must experience) a "personal relationship with Christ." But this seems logically quite different from the transaction of trading belief in Christ's atonement for the dropping of the charges against you as a sinner. It's not clear what the "personal relationship" business would have to do with all the "Protestant Latin," you know: justification, regeneration, expiation, propitiation, etc. Besides, it simply adds a kind of religious sentimentalism to correct doctrinal belief as a second qualification for salvation. It is essentially the same principle expounded by the United Pentecostal Church: you must speak in tongues in order to be saved. And this is supposed to be better than "salvation by works"?
I just don't see how it makes sense for Stephen Hawking to be condemned to eternal torment for not having prayerful, tearful devotions every day, for failing to "have a little talk with Jesus." Damned to the endless flames for not agreeing with an unprovable assertion about an invisible and intangible being?
But I said the real contradiction pointed up by some (I hope few) fundamentalists spitting on Hawking's grave centers on a crucial element in Christian theology. I have always loved the joke that explains how the Unitarians and the Universalists finally got together. The Universalists said, "God is too good to send anyone to Hell," and the Unitarians said, "And we're too good to go there!" Well, there's truth in that. No one deserves endless torment, not even fiends like Hitler, Stalin, and Pol Pot. Yeah, they deserve plenty of retribution all right, but endless torture? Come on. If that's the way God runs things, he's worse than them! No, that can't be, at least if all the talk about God being a loving Father has any truth to it. So, yes, Virginia, God is too good to send people to Hell.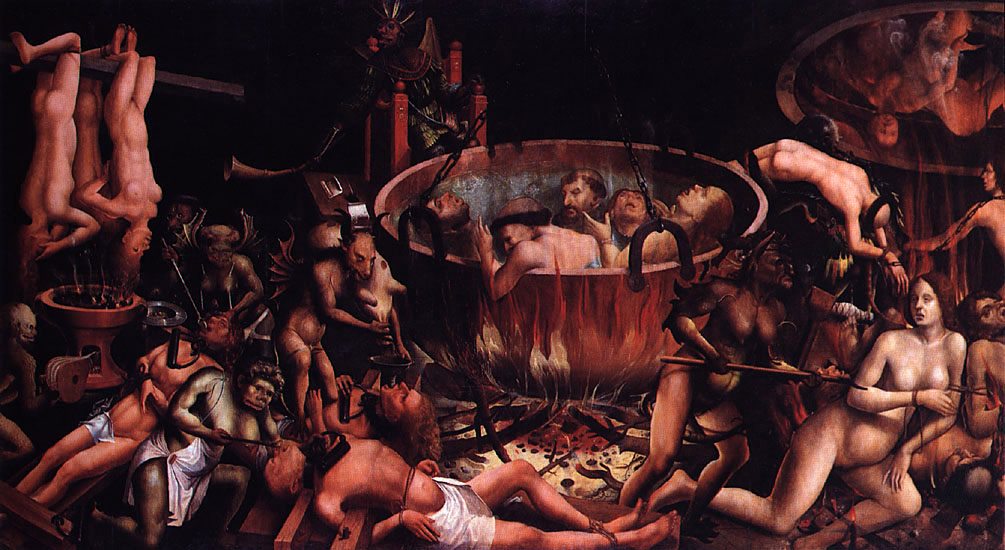 And there is danger in thinking he's not. Here's what I mean. Your God is by definition your ultimate standard of morality. "You must be perfect as your heavenly Father is perfect" (Matthew 5:48). But suppose you have been taught that God's perfection includes, is compatible with, his willingness to condemn people to unending torture. It is the greatest, most outrageous, harmonization of a biblical contradiction ever attempted, and theologians have long tried simply to split the difference between God as Love and God as the Lord of Damnation.
For most Christians, this harmonization is merely a trick of theoretical, theological damage control, just public relations. It is not an existential problem for them. They really only care about God as the loving Father. The notion of him consigning his creatures to the Hellocaust is really just a pesky distraction, no more important than whether the mustard seed is "the smallest seed on the earth" (Mark 4:31).
What do such Christians say when an outsider raises the question? It is something of a relief to hear them reply that they wish it were not true that unbelievers are doomed to Hell, but that they are obliged to believe it is, unfortunately. It's like believing that the Nazi Holocaust happened: you wish it hadn't, but that hardly gives you the right to deny that it did, right? At least this response is better than that of the Christians who rejoice that poor Hawking is now rotating on a spit over the flames of Hell. But it doesn't resolve the contradiction. In fact, aren't the more compassionate Christians implicitly admitting the existence of the contradiction? And are they not admitting that their own moral conscience is superior to that of the God who, unlike them, does not seem to mind torturing his creatures?
Oh, but perhaps God is just as pained and regretful at having to send these poor sinners to Hell! He has no choice! They should have taken him up on his offer of amnesty. Thus they have only themselves, not God, to blame. This is doubly absurd. On the one hand, to say, as apologists do, that the sinner chose Hell when he could have chosen heaven is ridiculous, especially in the case of someone like Stephen Hawking, who knew there was insufficient reason to believe in either Hell or the Gospel. C.S. Lewis said he was not asking anyone to accept Christianity against his better judgment, since that must poison "faith" with intellectual dishonesty. Too bad God does not, on the standard reading, take such an open-minded view!
On the other hand, why should God "have to" send anyone to Hell? Is he bound by some rules that are superior to himself, like Zeus, helpless before the Fates? Jesus does not seem to think so when he petitions his Father, saying "all things are possible for thee" (Mark 14:36)?
I say there is danger in believing (pretending) that a loving God can damn people to eternal suffering and still be a loving God. The danger is that you may feel entitled to make room in your heart for cruelty and gloating. After all, it's all right for God! And this seems to be precisely the thinking of the theological sadists who relish the thought of Hawking or Gandhi or anybody else going to Hell. You see, they are not being inconsistent with their faith, which would make them hypocrites. No, they are being consistent with a self-contradictory faith. We can only be glad that most Christians do not make the logical connection. But we would be even gladder if they did see the logic of it and purge their faith of this terrible contradiction.
So says Zarathustra.