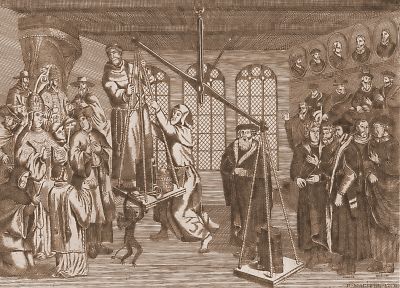 If you're a Roman Catholic, November 1 is All Saints Day. If you're a Protestant, November 1 is Reformation Day. So what did I do back in the early nineties when I served as pastor of First Baptist Church in Montclair, New Jersey? Well, naturally, I invited a Catholic monk to preach to us on Reformation Day. (I also invited a Sunni Imam to speak to us on Trinity Sunday, but that's another story.) Here I would like to draw attention to one particular aspect of Catholic-Protestant differences summed up in the Reformation: the democratization of biblical learning. History is now repeating itself.
In the beginning (don't you like the sound of that phrase?) the question of lay versus professional access to scripture was entirely moot since most folks were illiterate and the labor involved in hand-copying the Bible made it simply impossible for private individuals to have their own copies anyway. But the Reformation spearheaded by Luther and his pals and the invention of Gutenberg's printing press coincided and changed everything. It soon developed that anybody (Protestants at least) could read the Bible and actually had the opportunity to do so. But both events are now so far behind us that it feels like the circumstances they introduced have been with us forever. But they weren't.
We have forgotten (because we never knew) that the Bible was not written for the common reader in the first place. The sacred documents were produced by scribes and priests for the use of their elite colleagues. For one thing, that sure explains the Book of Leviticus! Can you stand the tedium? Have you ever tried to do some casual reading in the Talmud? I wouldn't recommend it unless you happen to be a Rabbinical student. But if you are, then Bon Voyage! In the same way, Leviticus is a handbook written for the use of Levitical priests, hence the title. It's just like the Sama Veda in Hinduism.
Today the Bible is widely read, even memorized, but (I dare say) almost just as widely misunderstood for the same reason. It takes some hard-earned expertise to know what to make of it. But wait a minute—am I saying that Psalm 23, the Sermon on the Mount, and 1 Corinthians 13 are beyond the grasp of the average reader? Of course not. Or maybe I am. To put it more charitably, or to be fair about it, we might recall what Augustine said about scripture: it is a river in which a mouse can wade and an elephant can swim.  Millions of faithful Bible readers go through the Book of Psalms again and again, but they frequently find themselves startled awake from their pious reverie and stymied at strange-sounding references to the king, his battles, and God killing dragons. What on earth? Similarly, people delight to read the gospels for their edifying content, failing to notice (as I did for so long) the contradictions in reports of the same events or sayings. Or if they do notice them, they treat them as momentarily annoying gnats to be waved away. But my axiom is this: there is nothing more pious than understanding the text. For its own sake, but also because otherwise you are likely to make the Bible into either a ventriloquist dummy or a Rorschach blot.
Once the sacred text became available to public scrutiny, the Catholic Church discouraged, even forbade, its flock to read it. Why? Because they didn't want to put a machine gun into the hands of a Chimpanzee.  (Reminds me of the time S.T. Joshi quipped, "Lovecraft is being read by the wrong people.") Better leave the Bible to the pros. Common laity would just not be able to make sense of what they'd read, and they'd launch off in all sorts of heretical directions. And they did, though they wouldn't have described it that way. But this wasn't exactly the problem, was it? Martin Luther, the arch-heretic himself, was no uneducated layman. The guy taught scripture at a university! He was a Catholic monk, for Pete's sake! He was skilled in the use of what scholarly tools were then available. His "sin" was to disagree, to reject the Church's party line. The Catholic hierarchy said that if everyone were to read scripture for themselves, every man would become his own Pope. But what they were really afraid of was that everyone would become his own Luther! And everyone did.
Well, maybe not everyone. Most Protestants continued to understand scripture, even when they did read it for themselves, within the specific boundaries laid down by the hierarchy; they were just changing the channel, now reading the text the way their new church authorities (Luther, Calvin, Zwingli, etc.) said to. Eventually the Catholic Church seems to have realized that the issue was not so much the pew potatoes reading the Bible instead of following orders. Rather, it was a question of which/whose tradition they would follow in interpreting it. Once they grasped that, in the early 60s the Catholic leaders changed their tune: "Go ahead and read it! We want you to! Just remember who tells you what it means."
Something quite similar is happening today. Bible scholarship from "unauthorized" perspectives has spread like never before via the Internet. Fundamentalist apologist Josh McDowell has warned his partisans that the Internet has become the greatest threat to the Evangelical movement in that it makes atheist thought and arguments readily available to curious Christian youth who would never have encountered them otherwise.
There are also various websites which have sparked a great revival of interest in the theory that Jesus did not exist as a historical figure. As you would expect, conventional biblical scholars (whether Christian believers or not) are disdainful of such sources, as they regard them, of religious misinformation. The late, great New Testament scholar Maurice Casey deigned to address such heretics in a couple of books published just shortly before his death. In them he scorned these non-professional scholars for lacking proper credentials, referring to them as "Blogger So-and-So."
This condescension is not exactly snobbery, as is sometimes suggested. What is implicit (explicit?) in such language and such polemics is an agenda of safeguarding the reputation and influence of a professional guild. Peter L. Berger and Thomas Luckmann put it well in their great book The Social Construction of Reality: "The outsiders have to be kept out… If… the subuniverse [of meaning] requires various special privileges and recognitions from the larger society, there is the problem of keeping out the outsiders and at the same time having them acknowledge the legitimacy of this procedure. This is done through various techniques of intimidation, rational and irrational propaganda…, mystification and, generally, the manipulation of prestige symbols."
If this consideration were not operative, we should never be hearing the carping about whether "Blogger So-and-So" has the right degrees or even any degrees at all. All we should be hearing is whether Blogger So-and-So's arguments make sense. And not simply that they don't but why they don't. Personally, I do have the relevant degrees and, though I am a Jesus Mythicist myself,  I have not hesitated to critique Mythicist arguments from several authors whose books I find unconvincing. And I think my criticisms are severe enough to risk personal alienation from their authors.
Some scholars who reject Christ Mythicism do not mince words and freely admit that they would automatically reject any candidate for a university teaching post in New Testament if the candidate, though appropriately credentialed, espoused the Christ Myth theory. Until recent years, the same barrier faced scholars like the great Thomas L. Thompson who advocated what is now called "Old Testament Minimalism." No more. Why not?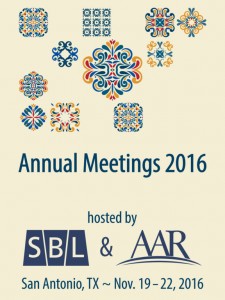 As Michel Foucault said, every age, every generation, upholds (whether they know it or not) an "archive" of "accepted" knowledge, information, and assumptions, the sharing of which makes it possible for scholars to come together for discussion. It is not bigotry when someone like me finds himself the odd man out and not invited to the party. It's just that you have no game if the players cannot agree to a common set of rules. But what do you do if you are one of those wallflowers at the dance? Well, of course, you start your own party.
I believe I witnessed such a sorting out process in the evolution of the Jesus Seminar. When John Dominic Crossan and Robert W. Funk started the group, it seemed like just about every prominent New Testament scholar was on board. But the diversity of perspectives soon revealed itself as an obstacle to the Seminar's mission rather than a formula for its success. One by one, various factions dropped out. Those who approached the gospels from the standpoint of Social Science were frustrated that their approach was not in the forefront. The Narratology people thought they were getting short shrift. The "apocalyptic Jesus" scholars had to suffer in silence on the sidelines. And the very first meeting I attended was sufficient to show me I would sooner or later have to go my own way. Why not? Let a hundred flowers bloom!
I find myself belonging to a specific "community of interpreters" (as Stanley Fish calls them) that is definitely persona non grata in academia. I call it "ultra-radical criticism" or "New Testament Minimalism." In most ways it is a revival of the Dutch Radical Criticism of Bruno Bauer and W.C. van Manen. For years I edited The Journal of Higher Criticism to provide a forum for such scholarly work. I was involved in the sadly abortive Jesus Project sponsored by the Center for Inquiry. But these days my efforts are pretty much restricted to offering my Bible Geek podcasts and my books and conducting the occasional independent study course with interested independent scholars.
Nor is it only me. That's what I meant about the Internet and the Blogosphere. These are intangible refuges for freethinkers who do not buy into the dominant paradigms of professional biblical scholarship even while attempting to uphold the same standards of quality. Often they achieve that; other times they don't. These refugees are rather like the monks (and the Muslim savants) who kept a tradition of learning alive during the Middle Ages.
There's even a parallel to a still earlier phenomenon, the catacombs of Rome where various outlaw religious communities met in a time of official persecution. But just as the faithful gathered in those dank and torch-lit chambers to venerate the saints and martyrs of their communities, so do we ultra-radicals huddle together to rediscover and learn from the great critical scholars of the past: F.C. Baur, D.F. Strauss, Wellhausen, Kuenen, Van Manen, Bultmann, Schmithals, and the rest. Their prophetic voices are seldom heard in the ivory towers of academia these days when Green politics and Political Correctness have replaced theology even in seminaries, when Post-Colonialism and Queer Studies and Eco-Feminism (not to mention Evangelical apologetics) have usurped the title of "Biblical Scholarship." It has, I believe, become a kind of Dark Age for those who once attempted to study the Bible for its own sake, not for the sake of political manipulation and evangelistic propaganda in the hands of powerful interests on the Left and on the Right. Meanwhile, you'll find me among an unpopular Underground of kindred minds down here in the intellectual catacombs. There's nowhere I'd rather be.
So says Zarathustra.